About
The St. James School community is a family united in faith where students grow as disciples of Christ throughout their educational journey.
Take a Tour
Who We Are
Our mission for nearly 100 years, as guided by our Catholic faith, the Gospel, and a flourishing partnership with parents, is for our students to develop their relationship with Christ, their moral character, and their academic potential. We promote Faith, Excellence, Leadership, and Service in all that we do in our school and greater community. Our staff maintains a Blue Ribbon level of academic excellence notably recognized by the Department of Education.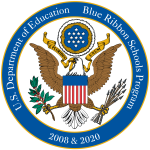 St. James students:
Acquire Catholic moral and spiritual values that enable them to live responsibly.
Are empowered with the necessary academic skills, enabling them to contribute to their community and further their own education.
Develop the personal resources to cope with and respond to the complexities of modern society in a Catholic manner.
Develop a positive image of themselves and their various roles in society.
Take a Tour
Our History
Established in 1926 by Sisters of St. Francis, St. James School is dedicated to partnering with parents in modeling Christ for our children. For over 90 years, our staff and educators have empowered thousands of students with beliefs, attitudes, and values shaped in accordance with the Gospel.
See Video
See Timeline
A note from Principal Kendrick
Welcome! We're so glad you've decided to explore St. James School as an option for your child's education. At St. James, we're committed to helping your child grow in their intellect while developing them into men and women. Together, we find a way to help your child achieve their full potential. I look forward to meeting you and your student soon. It's a great day to be a Bulldog!
Leadership Team
Stay connected with St. James School
Please provide your current contact information so we can keep you in the loop about news, events, and general St. James School happenings. We also invite you to share news and announcements about your post-St. James life, and you could be featured in our St. James social media pages and Annual Report.
Questions? Contact Julie Jacobson, Director of Stewardship and Development | 224.345.7212 or jjacobson@stjamesah.org.
Submit Alumni Info
Careers
Want to transform the lives of students at St. James School? Explore our open positions!
See Open Positions